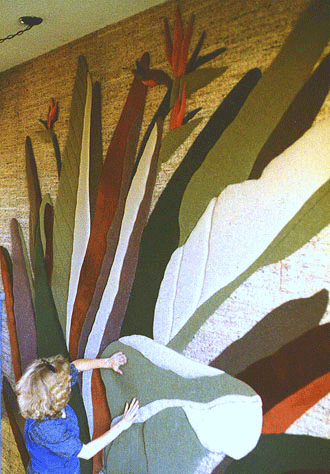 Theresa uses her background as an artist and designer to integrate art and environment as she creates vibrant one-of-a-kind installations for residences, offices, commercial buildings and public spaces.
Her process is hands-on, from the initial meeting with the client, through the design, fabrication and installation of the art and landscaping.
The etched glass designs are created in studio and then installed on site, usually without disturbing the glass already there.
Mosaics may either be fabricated and installed on-site, or created in her studio on panels or other backing and then transported to the site for installation.
Fabric wall reliefs are created in pieces in studio and then installed on location. Garden art is generally designed in the studio and then transported to the site for installation.
Theresa collaborates with her clients and their designers and architects every step of the way to be sure that the design and execution is exactly right, on time and on budget, and she supervises the final installation to be sure that the project is completed in a workmanlike manner.
Theresa is proud of the artistry and vision that she brings to all projects, both large and small. Her application of imagination, skill and talent to each assignment results in a finished project that is an authentic reflection of her vision and expertise.
Specialties and Services:
Architectural mosaics and fountains * Swimming pool mosaics
Etched art glass for architectural installations
Liturgical art * Mixed Media Panels
Fabric wall reliefs * Fireplace design
Interior Design
Landscape and Water feature Design
Garden art and sculpture